Plane, train, ferry, or bus … however, you reach us it's the start of a great adventure!
It takes two to four hours to reach Our Chalet from these international airports:
To plan your travel from the airport to Our Chalet by public transport visit the Swiss rail system (SBB) website which is available in English, German, French, and Italian. Our Chalet's nearest bus stop is Adelboden Oey. You can book both train and bus tickets on the SBB website. Information on group tickets (minimum 10 people) can be found here. 
If you are doing any additional travel within Switzerland, you may wish to look into purchasing Half Fare Cards or Swiss Travel Passes. Information on both can be found here. 
While we encourage guests to reach us by public transport, we recognise Swiss prices are high! Large groups may wish to look into arranging a coach transfer from the airport to Our Chalet, which may be more cost effective. Our Chalet is not able to recommend a specific transfer provider.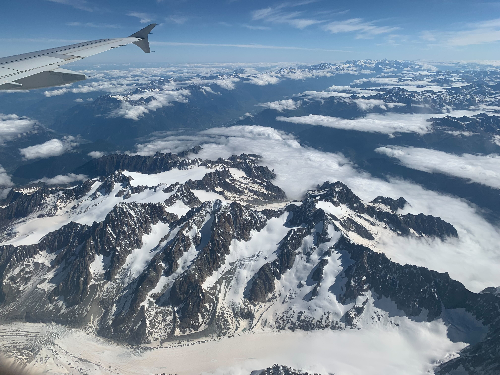 GETTING HERE BY TRAIN AND BUS
From your arrival point in Switzerland catch a train to Frutigen station. From Frutigen station travel to Adelboden Oey by bus.
Transfer to a red AFA bus. The bus connects with the train schedule and will be waiting on your arrival at Frutigen station. When you exit the station the bus will be on the opposite side of the road on the right. It will say Adelboden on the front.
If you have purchased a ticket to Adelboden your train ticket is valid on the bus. If you do not have a ticket you can buy one on the bus, at any train station, or on the SBB mobile app.
There are many bus stops between Frutigen and Adelboden, the journey to Oey takes approximately 20 minutes. The name of each stop will be displayed on a screen in the bus as you travel. When you see Oey displayed press a red button to tell the bus driver to stop.
Important notice
Groups of 10+ must inform AFA which bus they will be traveling on at least 24 hours in advance. AFA can then send extra vehicles if they expect a particular service to be very busy. To notify AFA e-mail info@afabus.ch (you can do this in English).
FROM ADELBODEN OEY
TO OUR CHALET
Walking:
From the bus stop it is approximately 1.2 km steep uphill walk which takes 20-40 minutes. From the bus stop follow the sign posts marked Our Chalet.
If you are taking part in a programme/event and arriving during office hours one of our volunteers will meet your group at Adelboden Oey.
Important notice
If you do not book a luggage transfer you will need to carry all your own luggage on the walk. Remember, it may be raining, snowing, or very hot! We recommend booking a luggage transfer if you are traveling with any luggage other than a backpack you can easily carry (wheelie suitcases are very hard work to pull up the hill!).
Luggage transfer:

Luggage transfer is available for CHF 5 return per person for arrivals between 9am and 6pm and must be pre-booked. Contact us at least 48 hours in advance to book. For programme/event guests, luggage transfer is included in your package but you must still notify us of arrival time at least 48 hours in advance. 
For groups on an event package arriving during office hours a volunteer will meet you at the bus stop and lead your group to Our Chalet. One leader is asked to travel with your luggage and start the check-in process while the group is walking. 
Important notice
Luggage transfer is for luggage only. We are not able to transport guests (other than the leader accompanying the luggage). If you have a permanent disability (e.g. not an injury) and are unable to walk up the hill please let us know at the time of booking so we can arrange transport for you and any mobility equipment.
Taxi:

The bus company AFA also runs taxis, which can meet the bus. To book a taxi e-mail info@afabus.ch or call 075 415 15 15 (24 hours).
A taxi costs approximately CHF 20-25 one way from Adelbodey Oey to Our Chalet. AFA has a range of vehicles available up to 7 seats.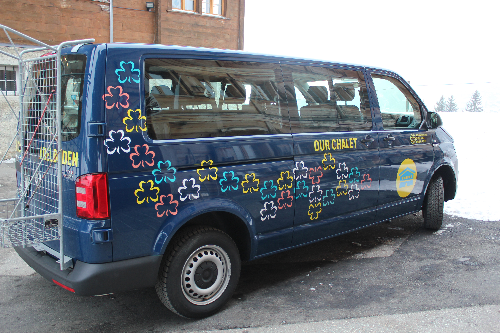 The full address for Our Chalet is Hohliebeweg 1, 3715 Adelboden. Be careful when using sat nav/GPS to select the correct address. There are many chalets in Adelboden!
Directions from entering Adelboden 
As you enter Adelboden on the main road from Frutigen you will come to a small roundabout/circle/rotary with a bakery on the left. Take the third exit (left turn) here.
Turn left again almost immediately (just after the petrol station) then drive up a steep hill. After a sharp right-hand corner there is short flat section before the road forks. Take the right hand fork onto Hohliebeweg. Our Chalet is on the left just around the first corner. Important do not take the fork if you are driving a coach/full size bus (see below)!
Parking
Parking at Our Chalet is very limited and cannot be reserved in advance. There is no charge for parking at Our Chalet.
Road conditions and large vehicles
Our Chalet is located on a steep and narrow mountain road. Our Chalet's driveway is steep and narrow with sharp corners.
Coaches/full size buses cannot reach Our Chalet.
In summer most coach drivers are able to drop off at the bottom of Hohliebeweg (the fork in the road) from where it is a 5-10 uphill minute walk to Our Chalet. In winter coaches cannot turn around at Hohliebeweg and must drop off at the bottom of Bonderlnstrasse, from where it is a 20-30 minute uphill walk to Our Chalet. Luggage transfer can be arranged for arrivals during office hours (9am-6pm) by contacting us at least 48 hours in advance.
In winter months roads may be impassable for any vehicles without four-wheel drive.
We advise all guests traveling to us in winter to have four-wheel drive and winter tyres and to carry snow chains.
Motorway Tax
If you are arriving from a neighbouring country and plan to use the motorways, you are required to pay a motorway tax. A 'vignette' can be purchased at the border entering Switzerland. Further information on road rules and travel is available from Swiss Touring Club.
Winter
During winter it is advisable to have winter tyres on your vehicle and essential to carry snow chains. It is a good idea to practice fitting them before your trip.
Several mountain passes close during the winter due heavy snow and avalanche risk. Check current conditions of roads immediately before you depart.
BON VOYAGE AND SEE YOU SOON!