Sangam offers three meals a day: a continental breakfast, Indian lunch, and international dinner. All of Sangam's water is filtered, and filtered water is used to wash all fruits and vegetables. Bottled water is available to buy throughout India, and you can fill your water bottle from a water cooler at Sangam. There are snacks and other treats widely available at convenience stores and grocery stores near Sangam, so there is no need for you to bring food from home. There is also a refrigerator available at the Centre for guests to store drinks and food. If you have any special food requirements, please ensure that they are listed on your enrolment and health forms. Sangam will cater to your needs wherever possible.
Breakfast is served daily in the Dining Hall . We serve a continental breakfast including choice of egg, porridge, toast, cereal and fruit, butter, peanut butter, jam, a small selection of cereals, müesli, yoghurt, fruit juice, coffee and tea.
If you need to leave before 08:15 on your departure day you can request a packed breakfast which you prepare after dinner the night before your departure. Please let our staff know at least 48 hours in advance if you would like a packed breakfast.
BREAKFAST
Serving time: 8.30 a.m. to 9.00 a.m.
Price: £ 3
Vegetarian Indian lunch – chapatti (whole wheat flat bread), rice, dhal (lentil sauce) and assorted vegetables safely prepared with filtered water and minimal spice.
INDIAN LUNCH
Serving time: 1:00 p.m to 1:30 p.m
Price: £ 3.5
Dinner is served at 18:30 in the Dining Hall . Dinner is a main course and a dessert. Please note we can only cater to special diets, including vegetarian, gluten-free, vegan, nut-free, etc., if we are notified of these in advance. Please give us as much notice as possible, ideally at least two weeks. Dinner is a Mix of Indian or International dished such as Italian, Chinese, Mexican etc. often non-vegetarian (though always with a vegetarian option) .
Evening Dinner
Serving time: 6:30 to 7:00 p.m.
Price: £4
FOOD ALLERGIES AND
INTOLERANCES
Sangam's kitchen facilities are operated by our domestic team and all dietary requirements are catered for to the best of the Centre's ability.
Guests must notify to Sangam team of all dietary requirements at least two weeks in advance of their visit, or at the time of booking meals, whichever is earliest with any special diet.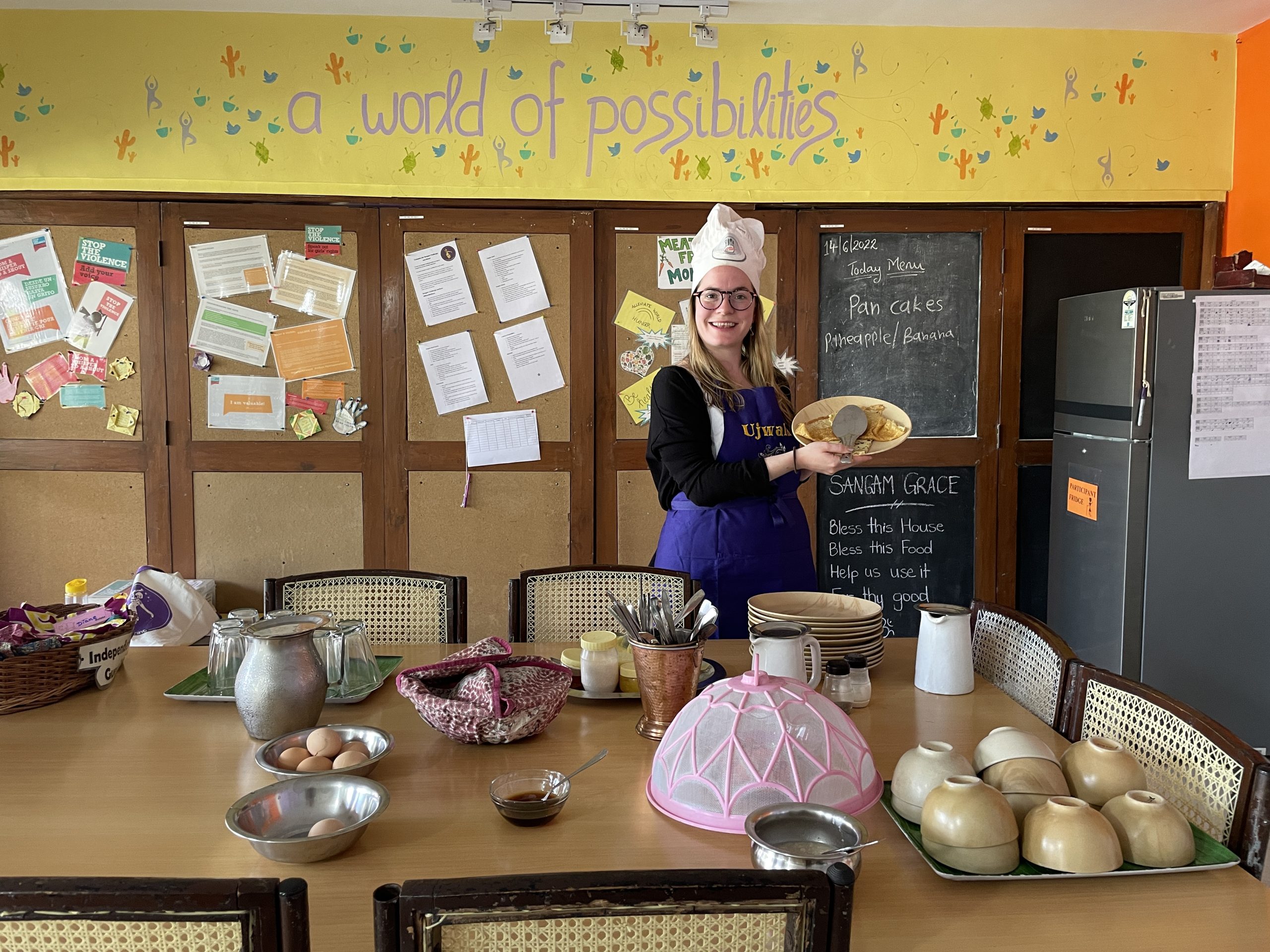 WE LOOK FORWARD TO SHARING OUR FOOD WITH YOU WHEN YOU VISIT!